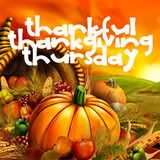 Today really is the day to sit back and just look at what you DO have. I know I am guilty of complaining about what I don't have a lot of the time. Today I am thankful for
1. My son, Jacob. He has taught me patience, how to love unconditionally, and that the simple things matter most. A smile from him truely can brighten up my whole day. He is truely the best thing to have ever happened to me and I just feel so lucky to be his mom. I hope that he always knows I am proud of him and I love him. He has me wrapped around his little finger but I am okay with that ;]
2. My husband. He loves me for who I am. I don't have to get dressed up for him to think I am beautiful. He works hard so I can stay home with Jacob and doesn't get mad if the laundry didn't get done that day. Lol.
3. Breastfeeding. I truely am thankful for it. I am not anti-formula at all. Jacob has had formula. But I am very proud and thankful that I am able to give Jacob a good start in life. I know there are many mothers out there who wanted so badly to BF and weren't able to.
4. My family&friends course. I have the best family and friends. And even though we live so far away from each other they always make a point to see how we are. I love that when we go back to MD we can just pick up where we left off.